Louisiana District Attorneys Association Meets in Natchitoches
November 29, 2018 / NPJ - article from
Natchitoches Parish Journal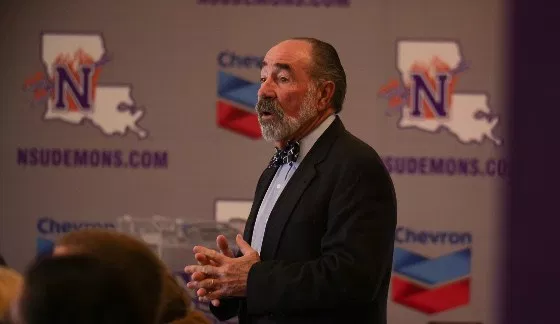 District attorneys from throughout Louisiana convened in Natchitoches Nov. 28 for the Louisiana District Attorney's Association monthly meeting.
Natchitoches Parish District Attorney Billy Joe Harrington hosted the meeting to "show my fellow DA's our beautiful city during this special time of the year."
Echoing the sentiments in welcoming the district attorneys included remarks from Sheriff Victor Jones, Parish President Rick Nowlin, Senator Gerald Long, and Reps. Kenny Cox and Terry Brown.
LDAA Executive Director Pete Adams and incoming Executive Director Loren Lampert conducted the business meeting to discuss issues relating the administration of criminal justice and law enforcement in Louisiana.
"We had numerous district attorneys drive in from across Louisiana to be here today to see this beautiful community and to attend our meeting. We discussed upcoming legislative topics and how they will affect our offices' programs and other criminal justice agencies," said Adams.
Lampert, who will replace Adams as executive director in 2019, said "members were delighted to come to Natchitoches to see the Christmas lights and enjoy the warm hospitality provided."
"I wish to thank Northwestern State University for hosting us today. We had a great opportunity to showcase our university and our parish to the district attorneys," said District Attorney Harrington.
The Louisiana District Attorneys Association is organized by the 42 district attorneys in Louisiana whose mission is "to improve Louisiana's justice system enhancing the effectiveness and professionalism of Louisiana's district attorneys and their staffs through education, legislative involvement, liaison, and information sharing."
In addition to their main role of prosecuting criminal cases, district attorneys also focus on victim services, children's advocacy, highway safety, juvenile justice, and child support enforcement.
The Natchitoches Parish District Attorney's Office is located at the parish courthouse on 2nd floor. Citizens are encouraged to contact the office at 318-357-2214 if they are in need of services.
Pictured above, LDAA Executive Director Pete Adams addresses district attorneys at the LDAA meeting held at the NSU Fieldhouse.
---
Governor and district attorneys at odds over calculating reoffense rates for criminals
BATON ROUGE- Governor John Bel Edwards and the Department of Corrections are firing back against district attorneys who claim one in four prisoners released early last November have re-offended.
The Department of Corrections said it looks at whether an offender has been convicted of the offense they were re-arrested for before a "recidivism rate" is determined. Those recidivism rates for the prisoners who were released last November won't be known until January 2019, according to Corrections Secretary Jimmy Leblanc.
"It's not re-arrest," Leblanc said. "It's about being reincarcerated into our prison system, and that's how we figure our numbers, and that's how it gets confusing for the public and the district attorneys to some extent not understanding how we figure."
However, district attorneys across the state said that's not the way anyone does it around the country.
"You pick up any brochure, anything in the criminal justice field, you will see recidivism is a return to prison by arrest," District Attorney Hillar Moore said. "The numbers we look at and calculate and anyone that does any type of research calculates is your return to prison following an arrest."
According to the National Institute of Justice, recidivism is defined as the following: "Recidivism is one of the most fundamental concepts in criminal justice. It refers to a person's relapse into criminal behavior, often after the person receives sanctions or undergoes intervention for a previous crime. Recidivism is measured by criminal acts that resulted in rearrest, reconviction or return to prison with or without a new sentence during a three-year period following the prisoner's release."
Governor Edwards' office took issue with the fact that the District Attorney's Association calculated nearly one in four offenders cut loose last November re-offended.
According to numbers District Attorney Moore is keeping, of the 1,984 inmates that were set free, 516 were re-arrested. The governor's office says their number is at 362. According to the governor's office, recidivism rates are not available even though the district attorneys say they are.
"Right now, for the basic research, you want to know who has returned to prison and why," Moore said. "You aren't going to wait a year, two years to see what they were convicted or what charge. It matters why they returned. Was it a bad arrest? It could be. But, convictions should be looked at long-term, but for now, it's re-arrest and they are back in prison again."
Thursday, Secretary Leblanc confirmed what the WBRZ Investigative Unit first reported: that some of those released under the criminal justice reforms were re-arrested on murder charges.
"There are two that have been arrested for murder," Leblanc said. "One would have been out anyway. The other would not have. I have a lot of compassion for our victims. Part of the reinvestment strategies are to reinvest in the victims' services."
But the district attorneys said their number of offenders who were released accused of murder stands at five.
"I don't think it's a liability issue," Leblanc said. "I think it would have happened anyway. If it was going to happen, it would have happened anyway."
The WBRZ Investigative Unit asked if he meant that the victims would have been killed anyway.
"I'm not saying that," Leblanc said. "I'm saying it could have been... Could have been the case."
Published 8/2/18 - WBRZ
---
Longtime school teacher, wife of Avoyelles DA passes away
AVOYELLES PARISH, La. (KALB) - On Sunday we learned that Susan Riddle, 63, a longtime school teacher and the wife of Avoyelles Parish District Attorney, Charles Riddle, passed away on Saturday night. Here's what Mr. Riddle posted on his Facebook page on Sunday:
The family of Margaret Susan Noone Riddle announces her death on July 14, 2018.
Susan, or 'MeMe', as her seven grandchildren called her, was an educator, Christian worship leader, musician, songwriter, author, singer, piano teacher, counselor, and lover of her dogs.
Riddle graduated from Louisiana State University in 1979 with a degree in Elementary Education. She graduated from Franklin High, located in Franklin, Louisiana, the place of her birth.
She lived in Franklin, the Philippines, where she attended the American School of the Philippines, Pineville, and Bunkie. Susan moved to Marksville after her husband Charles finished Law School.
While in college at Louisiana State University, Susan met her future husband, Charles, on a blind date to an LSU Football game, set up by her roommates, Kay, Jill, Debbie and Martha. It was love at first sight for both of them.
They married in 1978 and had three sons, C. Addison, IV (Amber), John Hanlin and Michael James. They are grandparents to seven- six grandsons, Collin Tanner, Easton Taylor, Landen Michael, Hanlin Jacob, Ryder John Ronnie, Henry Arthur, and one precious granddaughter, Camille, who helped to equalize the male to female ratio in the family.
Susan later acquired her Master's in Theology, and has written a book published by AuthorHouse, "In a Dream, In a Vision of the Night," which has been in continuous publication.
Susan taught Kindergarten at Fifth Ward Elementary and at Marksville Elementary. Her students still refer to her guitar playing to teach them the days of the week and other lessons. She also taught guitar and piano lessons with a focus on worshipping the Lord.
Susan was preceded in death by her father, George James Noone. She is survived by her husband of forty years, Charles Addison Riddle III, her three sons and seven grandchildren. She is also survived by her mother Zella Marie Noone of Marksville, and one sister, Nancy Noone Broussard of Baton Rouge.
The funeral arrangements are under the direction of Hixson Brothers in Marksville. Visitation will begin at 5:30 P.M. on Monday, July 16, 2018 at Hixson Brothers and last until 10:00 P.M. On Tuesday morning visitation will begin at 8 A.M. at Christian Family Worship Center, located at 7691 Highway 107 in Mansura, until the funeral service at the church at 1:00 P.M. Burial will be at Cushman Cemetery in Marksville. Pallbears are Collin Riddle, Easton Riddle, Landen Loughman, Hanlin Riddle, Doug Broussard and Chad Neyland.
In lieu of flowers, the family is asking that donations be made to Susan's church, Christian Family Worship Center, 7691 Highway 107, Mansura, 71350.
Published 7/15/18 - KALB.com
---