Victim Assistance Program
Victim Assistance Program
The Louisiana District Attorneys Association Victim Assistance Program shall have the following goals: to constantly improve the professional standards of Louisiana Victim Assistance Coordinators (VACs) through education; to further members' knowledge of crime victims' needs and serve those needs to the best of the members' abilities; to improve the plight of victims throughout the judicial process; to assist Louisiana VACs and Prosecutors with the implementation and delivery of constitutionally guaranteed victim's rights; to serve the needs of Louisiana VACs, both personally and professionally; to promote good fellowship among Louisiana VACs; and to serve as a liaison to encourage a collaborative effort between different agencies in the areas of victims rights.
The LDAA is committed to helping victims of crime receive all the services provided by the law. The LDAA has produced a video designed to provide crime victims with a basic understanding of the criminal justice process, with the hope that a better understanding will ease their way through the difficult process. For more information, contact LDAA Headquarters at (225) 343-0171.
For information on Victim Services click here.
The Buzz
The LDAA Victim-Witness Assistance Newsletter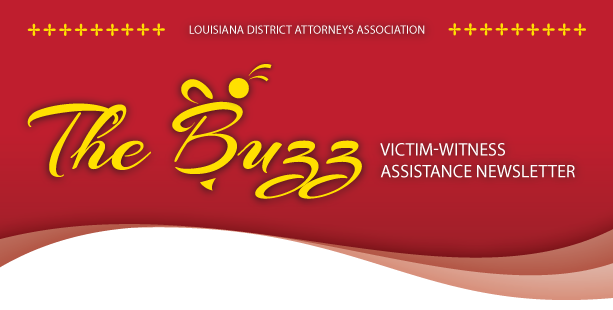 The Buzz (VAC Newsletter) -
Contains training opportunities updates and helpful information to victim assistance coordinators, prosecutors and staff who directly serve victims of crime.
Click here to read the most recent distribution.
Past Editions
April 2020
October 2019
May 2019
December 2018
September 2018
May 2018
February 2018
September 2017
June 2017
March 2017
October 2016
March 2016
August 2015
June 2014
May 2014
August 2013
April 2012